If you own a car and love the outdoors, you deserve this.
Better prepared than not at all! With this super-bright roadside triangle emergency light, your travels just got a little safer. It has 3 COB LED lights with 4 light modes, so you can warn other vehicles and signal for help. This warning light is great for hiking, camping, exploring, and doing car repairs.
SPECIFICATION:
Dimensions: 187mm*167mm*44mm
Weight: 274g
LED: COB
Material: ABS
Battery: 1200mAh
Voltage: 3.7v
Package Includes
1x Emergency Triangle Roadside Warning Light
1x USB Charging Cable
【LED Portable Work Light with Four Modes】 High brightness, low brightness, red brightness, and road emergency warning (red triangle flash) great gear in a roadside emergency to make your life brighter and safer.

【Power Bank Function:】 Designed for USB input and output, it is convenient to recharge your mobile phone at any time. Can serve as a backup power bank for your phone or other mobile devices in an emergency.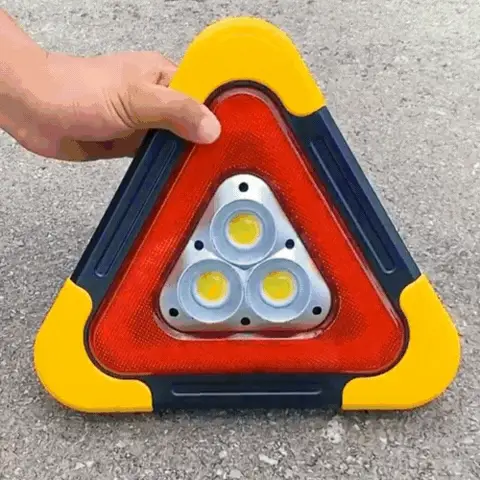 【Durable And Flexibility:】 Triangle emergency hazard warning light with rugged 180-degree rotation adjustable handle, you can prop it up easily and put it anywhere you like. Led work light hanging on truck or hand held.

【Widely Using:】 Super Bright LED work lights with COB Tech, higher lumen, better light efficiency, suitable for indoor and outdoor activities like car repair, workshop, construction site, working, camping, emergencies, hiking, hunting, exploring, searching, and so on.
SPECIFICATION:
Dimensions: 187mm*167mm*44mm
Weight: 274g
LED: COB
Material: ABS
Battery: 1200mAh
Voltage: 3.7v
Package Includes
1x Emergency Triangle Roadside Warning Light
1x USB Charging Cable