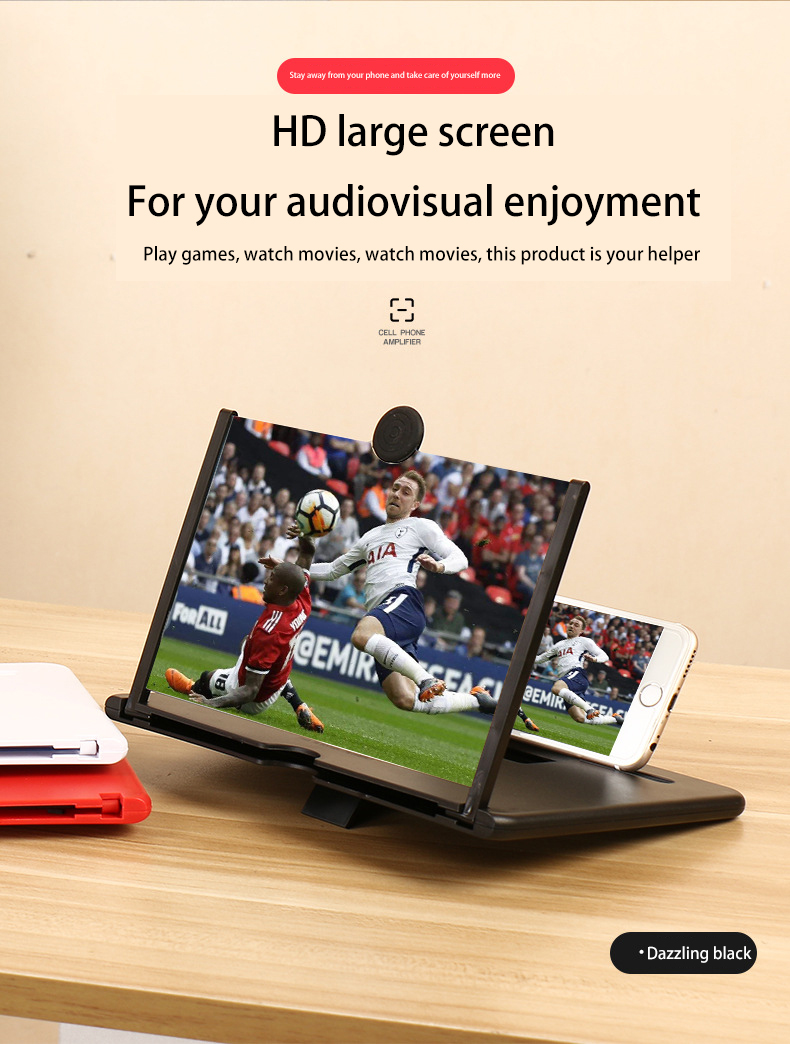 Feature
HD display screen: Fresnel mirror screen adopts optical HD zoom technology, which can enlarge HD by 3 to 4 times, effectively preventing radiation generated by mobile phone.
Sliding design: stretch the silicone round button, and then the screen appears. This sliding screen mode helps to protect the screen and is more suitable for transportation.
Simple operation: the screen amplifier doubles the screen size, so you can make the most of movies and videos on your HD smartphone. Add a Bluetooth-compatible keyboard and use it to play HD.
High quality materials: ABS plastic and Fresnel mirror, strong and durable, even higher definition. Raise frame adjustable angle of view. Non slip silicone pad protects and stabilizes the phone.
Excellent compatibility: whether you are for iPhone or an Android phone, the projector screen of the magnifying glass can be used with your device. 3D visual pleasure can avoid visual fatigue.
Specification
Material: ABS plastic + Phoenix lens
Magnification: 3-4 times
Functions: amplification, eye protection, radiation protection, stand holder
Product size: 260 * 175 * 10 mm/10.23*6.88*0.39''
Color: Black, White, Red
Not good
Product not good as advert.No room for questions before purchase
Good morning Jarso,
Apologies for the inconvenience caused, kindly note that we delivered what we had advertised, kindly note that you can contact us via 0740695968
Sophie's online Shopping.
10 inch 3D Mobile Phone Screen Magnifier HD Video Amplifier with Foldable Holder Magnifying Glass Smart Phone Stand Bracket
Good Morning Samson,
Thank you for rating us,, we are looking forward to see you make new orders with us. Your comfort is our priority. kindly visit the link below to check out what else we have in stock
https://sophie.co.ke/
Sophie's Online Shopping
It's not what I was expecting.
That thing ain't clear at all.
Good morning James,
Apologies for the inconvenience kindly share order number to our WhatsApp 0740695968 so that we can assist accordingly.
Sophie's online Shopping.