LG NanoCell TV 65-inch (165cm) with 4K resolution, Quad Core 4K processor with AI Sound Edge-LED_Backlight with Local Dimming and LG Local Contrast
KSh 95,230 – KSh 127,330
8 sold in last 9 hours
Estimated Delivery: Oct 05 – Oct 09
... people are viewing this right now
---
pure colors
Pure RGB colors are the key to realistic picture quality. NanoCell technology uses nanoparticles that create pure colors by filtering out dull colors and improving the purity of the RGB spectrum.
4K resolution guaranteed by pure colors
The NanoCell TV is equipped with Real 4K technology that meets the CM value of international standards. Discover the clearest and brightest viewing experience with Real 4K resolution complemented by NanoCell technology.
4K quad-core processor
More realistic optimization of images and sound
The NanoCell TV with the 4k quad-core processor eliminates noise and creates more dynamic colors and contrasts. Low resolution images are upscaled and reproduced closer to 4K quality.
Pure colors that do not tire the eyes
LG NanoCell TVs have received "LED Photobiological Safe" certification from Underwriters Laboratories (UL), which guarantees that your eyes will be protected from harmful light emissions.
Photobiologically safe LED 1)
Superior quality to international standards
The 'Photobiological Safe LED' test measures five criteria including blue light, actinic UV, near ultraviolet, infrared and retinal burn.
These are the official international standards for measuring the harmful effects of LEDs on the body, as defined by the IEC 2) NanoCell
TVs exceed expectations for each of the criteria.
Pure colors turn your home into a real home theater
NanoCell TV makes all scenes more realistic thanks to nanoparticles and the intense contrast created by Nano Black. In addition, it offers optimized visual and sound quality for a spectacular experience. Now enjoy true home theater with the NanoCell TV, which supports endless entertainment sources.
FILMMAKER MODE™
View images as they were taken
The processor automatically adjusts the picture, disabling motion compensation for the full cinematic effect. Watch movies with the creative intent and cinematic experience preserved. Enjoy all your content at the cinematic level and feel the full artistic touch of each film.
HDR 10 Pro and HLG Pro
Enhanced version of major HDR formats
NanoCell TVs display an optimal HDR image by improving the common HDR standards HLG and HDR10 in quality. This ensures that you can view all images in realistic high definition
local backlight
Crisp and detailed scenes
Thanks to local backlighting, the color and contrast levels are better compared to TVs with direct backlighting. NanoCell 4K technology provides an exceptional entertainment experience with enhanced contrast.

Unlimited entertainment
Multiplex in your home
Immerse yourself in the wide range of content available on the integrated apps Apple TV, Disney+, Netflix. From the latest movies, TV shows and documentaries to live sporting events and more, find them all from one place, your TV. Sit back and enjoy.
Disney+
All your favorites, in one place
Disney+ gives you access to classics, catch the latest titles or catch the latest movie releases. Discover Disney, Pixar, Marvel, Star Wars productions and more, there is something for everyone
The Apple TV app
The Apple TV+ home screen and more
Original shows and movies from Apple TV+. The premium channels you want and thousands of movies to buy or rent. Discover Apple Originals creations every month.
LG Channels
Free channels and video on demand
LG Channels, powered by XUMO, gives you access to feature films and the 50 most popular channels from the Internet, TV and other sources. LG Channels is free and built right into LG's OLED TV, so you can easily access it with just one click.

Pure colors bring Battlefield right in front of you
NanoCell technology completes a virtual world that surpasses reality by creating pure colors. In addition, various TV features such as Low Input lag, HDMI 2.1 and HGiG allow you to enjoy your games at their maximum performance.
Low Input Lag
Respond and aim faster
NanoCell TV allows users to immediately attack the opponent without delay. Your actions are synchronized with what is displayed, due to Low Input Lag.
HGiG profile for HDR gaming
Cinematic-level realistic scene
Fully immerse yourself in the game with perfectly rendered visuals. HGiG recognizes TV performance and will enhance images for the ultimate HDR gaming experience.
Pure colors generate a real stadium feeling
With Nano Accuracy, the NanoCell TV delivers accurate colors from all angles without distortion. Watch your favorite teams play in pure color on an ultrawide screen with stunning picture quality.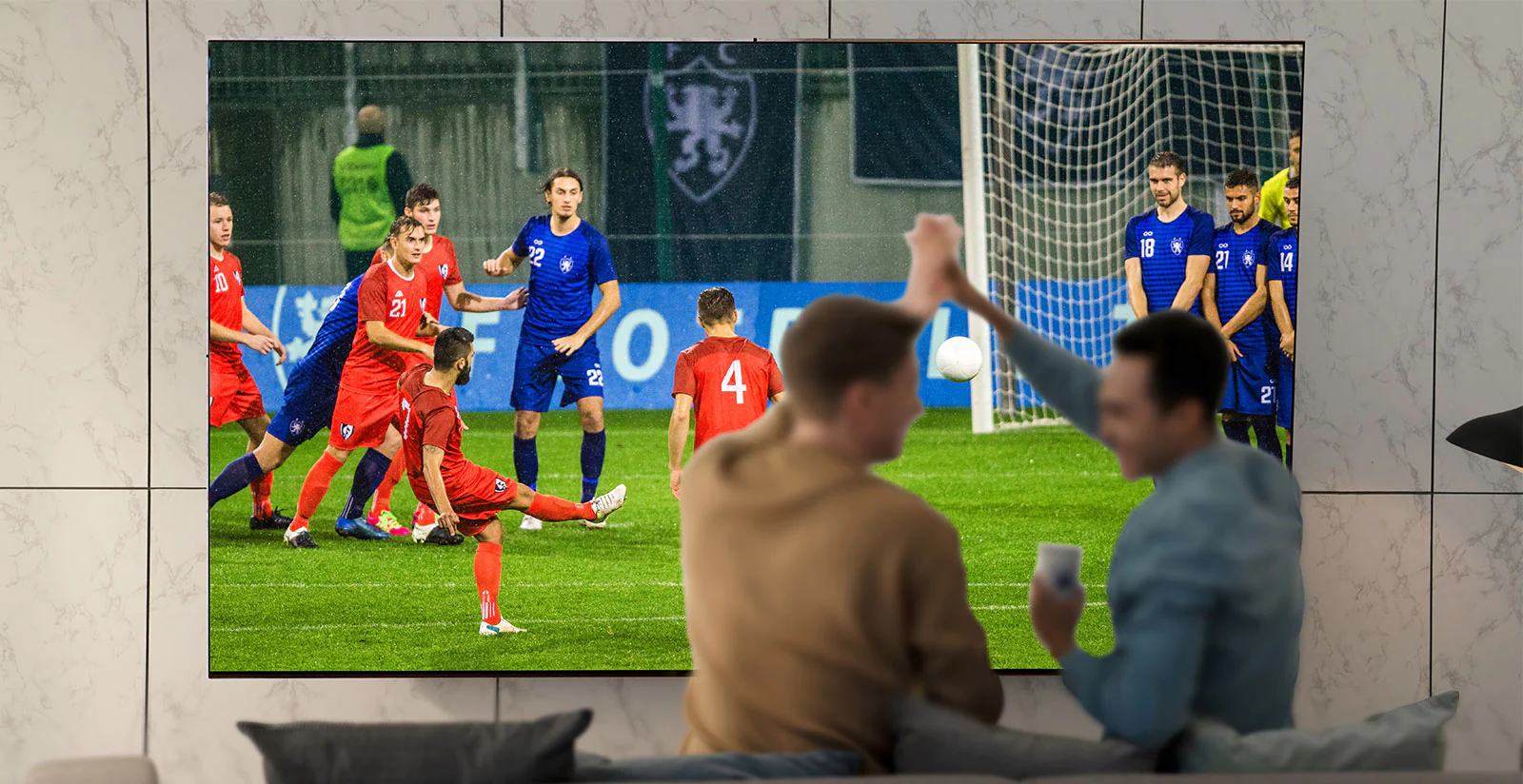 Sports Alert
don't miss the game
Sport Alert informs you before, during and after the game. You'll never have to worry again, you'll never miss a highlight from your favorite team, even when you're watching something else.
Bluetooth surround speaker ready
Amplify your sound environment
NanoCell TV converts 2.0 channel sound into virtual 4.0 sound. The TV can produce virtual surround sound through a connection with 2 bluetooth speakers. Immerse yourself in the game as if you were at the stadium.
GENERAL PRODUCT INFORMATION
EAN

8806091046680

Model code

55UN70006LA.AEEQ

ISTA 6 packaging

Nope

Screen sizes in this model series

65 inches
PANEL TECHNOLOGY
Screen type

4K NanoCell IPS LCD display for a billion colors faithfully reproduced and wide viewing angle

Viewable Screen Diagonal

65 inches / 164cm

Resolution

4K UltraHD with 3840 x 2160 pixels

aspect ratio

16:9

Backlight (BLU type)

Direct-LED

Dimming algorithm (image enhancement)

LG Local Contrast

Wide Color Gamut

NanoColor

Angle

Wide Viewing Angle

Native panel scroll speed

50/60Hz

Frame calculation for LCD TVs (LG TruMotion)

TM100 (50Hz refresh rate)
ENERGETIC EFFICIENCY
Energy efficiency class (A - G)

G

Power consumption (Standby)

0.5 watts

Power consumption

135kWh/1000h

Energy saving mode activated

Yes

Power supply

Alternating current, 100-240 Volt, 50-60 Hz
IMAGE
HDR support

Active HDR with HDR10 Pro and HLG

AI Picture

Nope

Image processing in AI Picture

Image Enhancing with Double Step Noise Reduction, Sharpness Enhancer, Advanced Color Enhancer and True Color Accuracy (17x17x17)

Filmmaker mode support

Yes

HDR Tone Mapping

HDR Dynamic Tone Mapping

HDR Effect (SDR-Tone Mapping for HDR-Look)

Yes (4K/2K)

HFR (high frame rate)

Nope

Converter

4K converter

Support for video decoders

HEVC (H.265): 4K@60p with 10 Bit, VP9: 4K@60p with 10 Bit, AV1: 4K@60p with 10 Bit

Preset Images Mode

10 Modes: Anime, Standard, Eco, Cinema, Sport, Game, HDR Effect, Filmmaker, (ISF) Expert (Bright Room), (ISF) Expert (Dark Room)

Ambient light sensor (Illuminance Green)

Yes

Automatic calibration (CalMAN) with access to LUT-Level

Nope
YOUR
Loudspeaker type (channels / performance)

2.0 sound system with 20 Watts power (10 W per channel)

Loudspeaker emission direction

Downward facing speakers

Compatible with Dolby Atmos

Nope

Surround sound support

LG Ultra Surround

AI-Sound

AI Sound with 5.1 upmixing and automatic sound adjustment (Adaptive Sound Control - Voice/Music/Sound Effect)

Improved speech intelligibility (Clear Voice)

Clear Voice III

AI Acoustic Tuning (Seated Position Speaker Calibration)

Yes

Sound Share (Play Bluetooth sources through TV speakers)

Yes

Bluetooth Surround (Using BT speaker(s) as rear speaker)

Yes

LG Sound Sync (wireless connection of soundbars, etc.)

Yes

Bluetooth Easy Pairing (automatic connection to BT devices)

Yes

Simultaneous audio output

Yes (TV with headphone/optical output)

WiSA (Wireless Speaker Audio, for Hi-Res wireless connections)

Nope

Supported audio codecs

AC4, AC3 (Dolby Digital), EAC3, HE-AAC, AAC, MP2, MP3, PCM, WMA, apt-X (for more information see user manual)
PROCESSOR
Processor

4K Quad Core Processor
GAMES
Nvidia G-Sync compatibility for smooth gaming with Nvidia graphics cards

Nope

AMD FreeSync compatibility for smooth gaming with AMD graphics cards

Nope

HGiG compatibility for exceptional HDR display when gaming

Yes (after planned update)

Variable Refresh Rate (VRR)

Nope

Auto Low Latency Mode (ALLM)

Yes
SMART TV
Smart TV platform

LG webOS 5.0

LG ThinQ

Integrated

Amazon-Alexa

Integrated

Google Assistant

Integrated

Sports Alert (allows active notification of sports events from your favorite teams)

Yes

Compatible with LG ThinQ app

Yes

Compatible with Apple AirPlay 2 and Apple HomeKit

Yes

Compatible with Amazon Echo

Yes

Compatible with Google Home

Yes

Home Dashboard (Overview of all connected devices)

Yes

AI UX (AI Based User Interface)

Yes

AI Home (Preview AI-based app content in Home menu)

Yes

AI Recommendations

Yes

Intelligent Edit (automatic sorting of applications according to their frequency of use)

Yes

Music Discovery (displays background music information on live TV)

Yes

Search for content related to the program you are watching

Yes

360 VR Play (Play 360° content on YouTube & Co.)

Yes

Webbrowser

Yes (including blocking malicious websites)
ORDERED
Remote control (type)

LG MR20 Magic Remote (with 2 AA batteries)

Hands-free Voice Control(Activate hands-free voice control by saying "Hi, LG!")

Nope

App Remote Control (LG ThinQ App - TV Control, Voice Search and More)

Yes

TV control, voice search and more) LG Voice Search (voice-driven search that retrieves

Yes

Information is contained in a browser Overlay-Mini-Browser)

Yes

Intelligent voice recognition with Natural Language Processing (NLP) to improve TV control and information retrieval

Yes (German, English and many other languages)

Quick Access (quick access for streaming services and Favorites function [press "0" for more than 2 seconds])

Yes

Universal remote control for soundbars, decoders, game consoles and many more

Yes (with Magic Remote; for devices compatible with QuickSet 4.0 [UEI-Cloud-DB])

Convert speech to text (Speech-to-Text)

Yes

Allow the expression of texts (audio guide, Text-to-Speech)

Yes

Menu language

German, English and 35 other languages
TV RECEPTION AND RECORDING
Tuner Type (Reception Types)

Single Triple Tuner (1x DVB-T2/-C/-S2)

Watch & Record (watch TV and record at the same time)

Nope

Reception of digital TV channels Supports subtitles during digital reception

Yes (DVB-S2/S, DVB-C and DVB-T2/T)

Chains

Yes

Reception of analogue TV channels Recording of TV programs on storage

Yes

USB storage memory

Yes (digital TV channels)

Programmed and controlled recording of TV programs

Yes

TimeShift (Pause / Resume TV programs / Delayed playback)

Yes

HbbTV (Use of interactive applications such as media libraries)

Yes

LG Channels (free reception of more than 50 IP-TV channels)

Yes

EPG (Electronic Program Guide, broadcasts the current TV program)

Yes (for the next 8 days)

Common Interface (CI+) support

Yes (CI+ 1.4)

Supports audio description (AD; description of TV events for the visually impaired)

Yes

Teletext

Yes (2,000 pages, supports TOP/FLOF/LIST)
VARIOUS FUNCTIONS
LG Content Store (download apps and media)

Yes

DIAL (Distribution of mobile content with the YouTube-/Netflix application)

Yes

Art Gallery (Full Screen Art Display)

Nope

Music Player (with lyrics display) Browser for using files/media on the

Yes

local network (DLNA support)

Yes
CONNECTIVITY
Screen Share function (for Android devices: Miracast Overlay (from NanoCell) or Miracast)

Yes

Supports Bluetooth Low Energy (BLE)

Yes (Bluetooth required. TV screen is active when mobile device screen is unlocked.)

LG SIMPLINK (Control of external devices based on HDMI CEC)

Yes
CONNECTIONS
HDMI connections

3x HDMI 2.0 (with HDCP 2.3)

Audio Return Channel (ARC) Support (Audio Return Channel) (Copy)

Yes (ARC over HDMI 2)

USB Ports

2x USB 2.0

Wireless Connections (Wireless)

WLAN (802.11ac) and Bluetooth (v5.0) 1x LAN (Ethernet), 1x Digital optical output (S / PDIF, fiber optic cable), 2x antennas (1x)

Other connections

Satellite, 1x Cable/Terrestrial), 1x CI-Slot, 1x Component /AV In
DIMENSIONS AND WEIGHTS
Packaging dimensions (W x H x D)

160.0 x 107.0 x 20.7cm

Dimensions with base (W x H x D)

146.3 x 91.4 x 34.0cm

Dimensions without base (W x H x D)

146.3 x 85.0 x 8.78cm

Device weight with packaging

29.8kg

Weight with base

22.4kg

Weight without support feet

21.4kg

Compatible with VESA (including supported standard)

Yes (300x300)

Compatible with Gallery Design's integrated wall bracket ("Slim Bracket")

Nope
ACCESSORIES
Scope of delivery (in addition to the TV itself)

Remote control, batteries for remote control (2x AA for Magic Remote-FB or 2x AAA for standard FB), quick start guide, power cable (removable), stand feet (depending on TV model)
INFORMATION
Presence of lead

Only certain components or parts of this television set contain lead, when the technique does not allow any alternative. This corresponds to the exceptional provisions of the RoHS directive.

Mercury content (mg)

0.0mg