With a wireless, same-screen device, you can enjoy your favorite videos, photos, and movies on the best display in the house.
HDMI Full HD 1080P output with faster processing speed offers you a perfect home theater experience.
Simply connect the tiny adapter to your HDTV, and you can wirelessly display content from your smartphone. Anything you can see on your smartphone, you can see on your HDTV.
Perfect for home or on-the-go, just take it with you to enjoy advanced technology.
MULTIMODE SELECTION
Miracast/DLNA /Airplay Mirroring, Design for Home Theater, PPT Presentation, Game, and Video Meeting
High-performance Wireless Transmission
The built-in Wi-Fi module supports 2.4GHz Wi-Fi, supporting online and local content wireless display: video, audio, photo, office file, or website.
MAIN FEATURES
high-definition image
Support 1080P, you can connect smartphone to TV, and whatever you see on your mobile device's display, you can mirror onto the HDTV, create your own exclusive cinema, and enjoy different audio-visual feast
Broad compatibility
Compatible with Android 4.2, Mac OS X 10.9, iOS 7.0, and Windows 8.1 Play games or share photos and videos with your family on a big screen without having to huddle around the tiny screen of a mobile device. Also, support multiple formats of photos, videos, and files. Out of the shackles of cable, the meeting has become intelligent and efficient
small and light design
Rounded cute size, just like a cookie, with a magnet connected the HDMI cable on the back, which saves the space so that it is portable for you to use it anytime and anywhere
easy connection
Just plug and play; no need for any other drivers, and with a switching button, you could switch Airplay mode and Miracast mode easily
Note:
Due to the compatibility setting, it is generally only applicable to the screen of a smartphone on a TV. If you want to use other devices, please pay attention to whether they are compatible.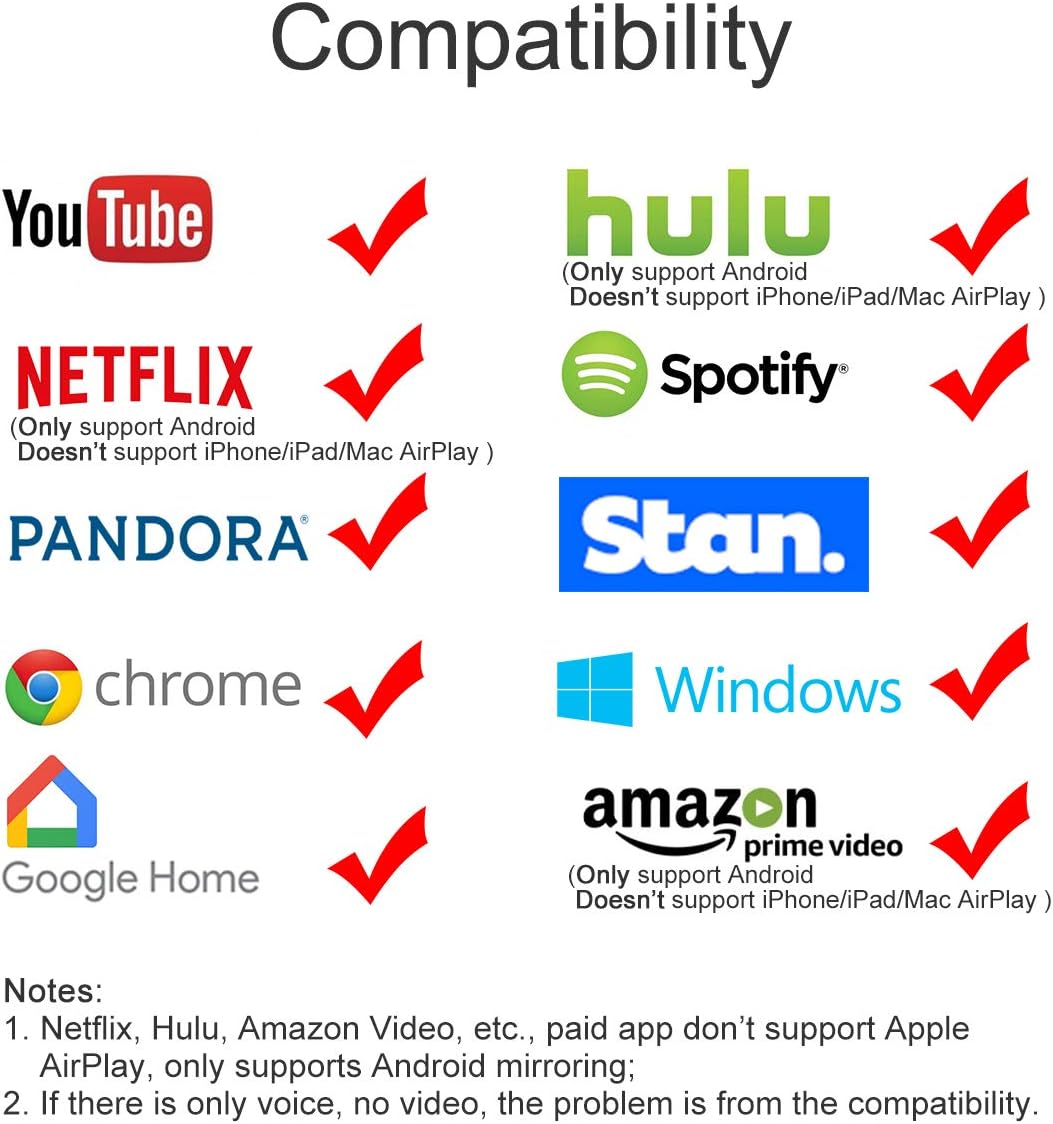 SPECIFICATIONS:
Main chip: Dual Core Cortex A7 Up to 1.5GHz
OS: Linux 3.0.8
Online update: Yes
Support Video Format:
MKV, WMV / VC-1 SP / MP/ AP, MPG, MPEG, DAT, AVI, MOV, ISO,MP4, RM, H.265, Real Video 8 / 9 /1 0, Up to 1080P.
Support Audio Format:
MP1 / MP2 / MP3 / WMA / OGG / ADPCM-WAV / PCM-WAV / AAC.
Support Photo Format:
GIF / JPEG / BMP / TIF / JPG / TIFF
Support Applications:
Netflix, Youtube, Hulu, IMDb, Twitch, RedBull, Spotify, CBS, Showtime
Networks, Pandora, WatchESPN, iHeartRadio, etc.
Specifications:
Weight: 85g. Color: Black.
Package Include:
1 x Wireless Same Screen Device.